Top 5 Best Room Heater India 2023 – Orpat | Usha | Bajaj
Best Room Heater India 2023 – Orpat Room Heater | Usha Room Heater | Bajaj Room Heater.
Winter is knocking on the door, and so everyone is now searching for the best room heater to get some comfort in the chilling cold. So to help you out we have created a list of Top 5 Best Room Heater in India 2023. All the room heaters on our list are affordable as well as long-lasting. But before you can choose a room heater you must have some knowledge about the types of room heater and what are the properties which could be a deciding factor. So let's start the article and wish you a happy and comfortable winter.
About Room Heaters
Room heaters are also known as Space Heaters as it creates a warm atmosphere inside a room. It provides comfort during chilly winters, no shivering when you have a room heater. Winter in India is not so extreme and do not last more than 2 months, so there is not much option in the market if you are searching for a room heater. But there are many types of room heater available in different variants and promise to offer the best performance at a budget-friendly price. So for detailed information on room heaters, we have created a Small Room Heater Buying Guide for you.
Top 5 Best Room Heater India 2023
So in this Top 5 Best Room Heater in India list, we will discuss mainly a total of three brands of room heaters, which are considered to be the best in the Indian market. Orpat Room Heater, Usha Room Heater and Bajaj Room Heater.
Orpat OEH-1220 2000-Watt Fan Room Heater

Meant for Spot Heating, Room Size: Up to 250 sq ft
Ideal for a small/medium room only, i.e., up to 250 sq. ft. when operated at 2000 watt heat setting. Makes some noise due to the fan.
Plug type: 15A, do not plug in the standard 5 or 6A socket, you may require a 3 pin plug or extension cord to act as a 5-15A converter but can not be used for a long time with an extension cord
Body Material: Plastic, Metal
Thermal cut-off for added safety, Two heat settings-1000 watts, and 2000 watts
Operative voltage of 220-240 volts.
Non-sagging, stitching type, and long-life heating element, Safety cut-off, Overheat Protection
Package content: 1 Room Heater, User guide
Comes with a 1 year warranty.
Customer Care Number: 02822-391391
Product Description – Orpat Room Heater
Winter can get quite harsh sometimes. To make sure you are always ready to take the drop in temperature, Orpat offers you this element heater that ensures the heat spreads wide so you do not need to stay close to the heater. It offers two heat settings of 1000W and 2000W. You can easily turn the temperature up and down with a simple twist of the knob.
This Orpat room heater has the capacity to be on for a considerable time while heating an area at its highest temperature. But it is suggested that the temperature of the heater be turned down in time.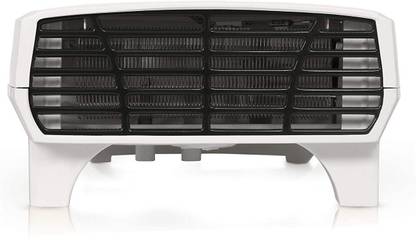 Orpat OEH-1220 2000-Watt Fan Room Heater is a very safe product. It has both safeties as well as a thermal cutout that ensures that the machine stays safe for use, for extended periods of time, despite having to work at high temperatures. The fan or blower system also protects the filaments from overheating as it circulates the heat pretty quickly.
The Orpat room heater is made to have a cool-to-touch exterior to ensure it is safe to be touched or moved even while it is switched on. But I will recommend to switch it off before moving it.
The Orpat room heater comes with a one-year warranty and is available in the color variant white only.
Bajaj Flashy 1000 Watts Radiant Room Heater (Steel)


Personalized Comfort: Customize your heating needs with an adjustable thermostat.
Radiant Warmth: Ideal for use in small rooms, this 1000 Watts heater provides instant heating during winters
Body Material: CRCA
Peace of Mind: Featuring cotton braided cord for safety and Nickel-Chromium Plated mesh grid for effective heating, Neat & Clean Operation
Reliable & Safe: Our room heaters are dependable and they
Cord Length:1.5 meters
Cord Type: Cotton Braided
Rated Voltage: 230 V
Cord Plug Material: Molded PP filled
Coating Type: Powder
Come with a 2 Year warranty
Product Description – Bajaj Room Heater
During winters, biting the chill can be a challenge and Bajaj Room Heaters help you keep the chill at bay with a wide variety of room heaters that range from Oil-Filled Radiators (OFR) and Fan/Blower to PTC and Radiant Heaters. Bajaj Room Heaters are ISI approved and have a host of safety measures in place to help prevent any potential mishaps. These incredibly safe heaters come with a 2-year warranty and wattage of up to 2500 W.
Usha Quartz Room Heater (3002) 800-Watt with Overheating Protection (Ivory)
 

Meant for Spot Heating
Voltage/Frequency: 230V/50Hz/1 Phase
Room Size: Up to 150 sq ft; Ideal for a small room only
Safety tip-over switch cuts off the heater in case it tilts or falls
Powder-coated finish to prevent corrosion
Designed for low power consumption
The heating element used is a quartz tube
There are two heating positions 400 and 800 watts to suit your comfort
Warranty: 1 year on product
Country of Origin: India
Customer Care Number: 18001033111
Product Description – Usha Room Heater
The Usha room heater can effectively heat any given surroundings at adjustable temperatures. This device greatly helps to keep you warm during winters.
Usha room heater works on 230 volts and to prevent overheating it comes with a switch that automatically shuts it off, before getting overheated. This switch also cuts off the heater in case it falls or tips over. Usha QH 3002 Quartz room heater is finished with a powder coating, which prevents it from corroding. Also, the heater can be positioned in two different ways, depending on your comfort and requirement. It even has hooks at the back, that have been specifically provided to mount the power cord of the heater for easy storage.
Bajaj Majesty RH 9F Plus 2000 Watts 9 Fins Oil Filled Room Heater (ISI Approved)
 

International design and styling
3 heat settings, Coating Type: Powder
Tilt protection
Warranty: 2 years on product
Power: 2400 watts
Includes: Oil heater, Pair of wheels, U clips, and Warranty card
Noiseless operation
Product Description – Bajaj Room Heater
The tubular heating element used in the Bajaj Majesty RH 9F Plus gives complete warmth to the room. With 400 watts of PTC(Positive Temperature Coefficient) ceramic fan, the heater offers better heating efficiency.
Considering safety features it has a manual thermal cutout & auto thermal shutoff to safeguard against overheating, it also features a safety tilt switch to avoid improper installation.
To fulfill your comfort this Bajaj room heater is equipped with an adjustable thermostat and three heat settings.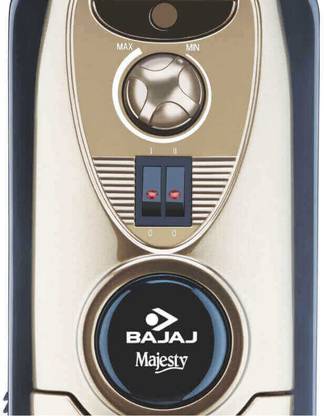 Along with impressive design and styling, the body is made from CRCA(cold rolled close annealed) material, providing toughness to the heater and guarding it against oxidation. The PVC plug material and quality castor wheels also add to the durability.
With 9 fins, an oil-filled radiator the heater has a smooth and noiseless operation.
The sturdy castor wheels provide the Bajaj room heater with easy mobility while being durable. With the attached wheels, you can easily shift it from one room to another as per your requirement.
Orpat OEH-1260 2000-Watt Fan Heater (Grey)


Meant for Spot Heating
Safety Mesh Grill
Room Size supported: Up to 250 sq ft
100% Pure Copper Wire Motor for longer life
Ideal for a small/medium-sized room only. Makes some noise due to the fan
Non-sagging, stitching type, and long life heating element
Safety cut-off, Auto-revolving Heater, Overheat Protection, Touch Sensor
The thermal cut-off for added safety
Two heat settings-1000 watts and 2000 watts
Product Description – Orpat Room Heater
With summer making a graceful exit, it is time for winter to move in. If you are from a place where the winters are chilling, then what you need is a good room heater. There is no better choice than this fan heater by Orpat. An attractive feature is the minimal amount of time taken by the heater to warm your room. It also consumes less power, allowing you to save on and lower your electricity bill. It is also safe and overheating proof.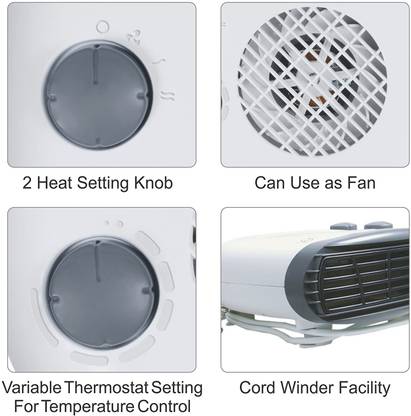 This Orpat room heater has two heat settings 1000 watts and 2000 watts. The amount of heat generated by this device is suitable for small/medium rooms.
This room heater can be used as a fan along with being used as a heater. The fan option can be switched on without the heating function and it will function as a regular table fan.
Room Heater Buying Guide
Types of Room Heaters
There are 3 types of room heaters available in the market and each has its own advantage and disadvantage.
Oil-Filled Room Heaters
As the name refers, these room heaters use the oil as a heating element to warm up the room. These are the best room heaters which warm up a large room with zero noise but are expensive.
Pros
Noiseless operation
Highly efficient room heaters
Ideal for large rooms
Cons
Takes a long time to heat up
Expensive
Fan or Blower Room Heaters
These room heaters are my favorite ones. These are actually 2in1 heaters and an ideal choice if you want something in the budget. Blower Room Heaters come with an inbuilt fan that circulates warm air in the room. This kind of heater has 2 advantages – First, the heating element or the filament will not burn as the heat will circulate using the fan, so there will be no overheating issue. Secondly you can even use it in the summers to get cold air as a table fan.
Pros
No overheating issue
Can be used as a table fan
Budget-friendly heating device
Offers quick heating
Cons
Consumes extra power
Creates noise
Infrared Room Heaters
These room heaters are also known as radiant heaters or quartz room heaters. It radiates the heat and produces warmness around you. It works on quartz tube or ribbon filament technology which starts heating up rapidly, as soon as you switch on the device. These devices offer quick heating, but these are ideal for small rooms only.
Pros
Quick and instant heating
Works very smoothly and silently
Cons
Should be used with caution as it can cause skin burn if someone is to close to it
Not best for big rooms
Filament could burn due to overheating
Some Advanced Features in a Room Heater You Must Consider
Auto Power Cut
The latest models come with an auto power cut feature that makes the device switch off automatically when the temperature reaches a certain point. This feature protects the heater from overheating.
Switch off Timer
With this feature, you can turn off the device automatically at the predetermined time you have set.
Multiple Temperature Settings
This is a pretty useful feature as with different temperature settings options you can adjust the heat according to your comfort.
Room Heater With Remote Control
With some advanced model, you can control them with a remote controller from a distance just like an AC.
Portability
Fan or blower heaters and radiant heaters come with a compact, lightweight design that makes them easy to shift from one place to another. While the oil-filled room heaters consume more space but comes with the castor wheels to move freely in any direction from one room to another.
Noise levels
If you want a quiet atmosphere, then radiant and oil-filled room heaters are ideal for you. While the blower heaters or fan heaters produce a little bit of noise due to its fan.
Size
In the mathematical rule, remember that a room heater utilizes 10W for heating approximately 1 square foot of space. So, for example, you can say for heating up 100 sq. ft, a room heater uses 1000 Watts. If you want to calculate your requirements, below is the formula.
Formula to Calculate Required Wattage According to Your Square Foot Area
Total Wattage/10 = Total Square Foot Area (or)
Total Square Foot Area X 10 = Total Wattage
Conclusion
This is full information about the best room heater in India for your home and office in winter. I am pretty sure after this room heater buying guide and 'Top 5 Best Room Heater In India' listing it will make your job easy to choose the right one according to your need. All the listed room heaters are from the top 3 well-known brands, so quality and services are assured. Which heater did you like the most? Please comment below.
Also Check – Best Office Chair
Updated on February 11, 2023 by top5deals